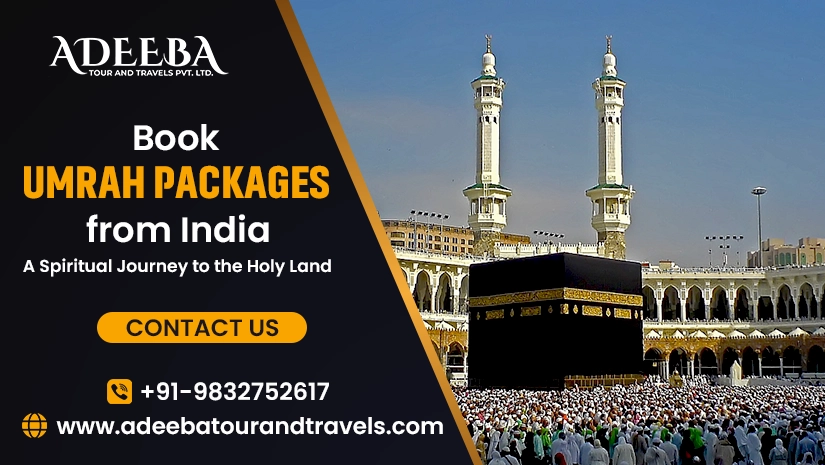 Book Umrah Packages from India A Spiritual Journey to the Holy Land
August 3, 2023
Umrah Pilgrimage: Brings you closer to the Almighty Allah (SWT)
For millions of Muslims around the world, performing the Umrah pilgrimage holds immense spiritual significance. Umrah, also known as the lesser pilgrimage, is an essential religious duty for Muslims and an opportunity to seek blessings, forgiveness, and spiritual rejuvenation. For those seeking a seamless and memorable journey to the holy cities of Mecca and Medina, various travel operators offer a range of Umrah packages from India.
From luxury to affordable options, these packages cater to different budgets and preferences, ensuring a smooth and enriching experience for all pilgrims.
1. Luxury Umrah Packages: Embracing Spirituality in Comfort
Luxury Umrah packages provide pilgrims with an unmatched experience, combining spirituality with indulgence. These packages include premium accommodations in luxury hotels, VIP transportation, and personalized services throughout the journey. Pilgrims opting for luxury Umrah packages can expect a stress-free and comfortable experience, allowing them to focus solely on their spiritual journey.
2. Affordable Umrah Packages: Fulfilling the Dream Within Budget
Not everyone can afford a luxury package, and that's where affordable Umrah packages come into play. These packages offer a balance between a spiritual journey and budget considerations. While the accommodations and services may be more modest, pilgrims still get to experience the essence of Umrah without the burden of high expenses.
3. Executive Package Umrah: A Blend of Luxury and Economy
For those seeking a mid-range option, Executive Umrah packages offer the best of both worlds. Pilgrims get to enjoy some luxurious amenities while maintaining a reasonable budget. These packages often include comfortable accommodations, convenient transportation, and guided Ziyarat tours to significant religious sites.
4. Ziyarat Packages: Exploring the Holy Sites
Ziyarat packages are tailored for pilgrims who wish to explore the religious and historical sites in and around Mecca and Medina. These packages include guided tours to the holy landmarks, enabling pilgrims to deepen their understanding of Islamic history and culture. Alongside performing Umrah, pilgrims can visit the Cave of Hira, the Battle of Uhud site, and other significant places of religious importance.
5. Hajj Tour Packages: Embarking on the Ultimate Pilgrimage
While Umrah is a lesser pilgrimage, the Hajj is one of the five pillars of Islam and represents the ultimate pilgrimage. Hajj tour packages cater to Muslims in India who desire to fulfill this religious obligation. These packages are comprehensive, covering every aspect of the Hajj journey, from the sacred rituals at Mina, Arafat, and Muzdalifah to the Tawaf at the Kaaba.
6. Best Umrah Deals: Choosing the Right Package
With numerous travel operators offering various Umrah packages, finding the best Umrah deals can be overwhelming. However, there are a few key factors to consider when selecting a package:
Accreditation: Ensure that the tour operator is accredited by the Saudi Arabian government and authorized to organize Umrah tours.

Inclusions: Check the package details to know what services are included, such as visa processing, accommodation, transportation, meals, and Ziyarat tours.

Reputation: Research the tour operator's reputation and read reviews from previous pilgrims to gauge their satisfaction with the services.

Customer Support: Choose a tour operator who provides excellent customer support throughout the journey, assisting pilgrims in case of any issues or emergencies.
7. Umrah Services: Making the Journey Hassle-free
Umrah services offered by reputable tour operators play a vital role in ensuring a smooth and hassle-free pilgrimage. These services may include visa processing, flight booking, accommodation arrangements, transportation to holy sites, and guidance by knowledgeable tour guides.

8. Umrah Tour Operators: Trusted Guardians of Your Spiritual Journey
Selecting the right Umrah tour operator is crucial for a successful pilgrimage. Trustworthy and experienced operators can make a significant difference in the overall experience. Pilgrims should look for operators with a track record of organizing successful Umrah tours and those who prioritize the safety and comfort of their clients.
Conclusion
Embarking on the Umrah pilgrimage is a momentous occasion in the life of a Muslim. Booking the right Umrah package from India can turn this journey into a spiritually enriching experience. Whether it's a luxury, affordable, executive package, or even a Hajj tour, the key is to choose a reputable tour operator that offers the best services and support. So, take the first step towards your spiritual journey and book
cheap Umrah packages
that align with your budget and aspirations, and may your pilgrimage be filled with blessings, forgiveness, and inner peace.