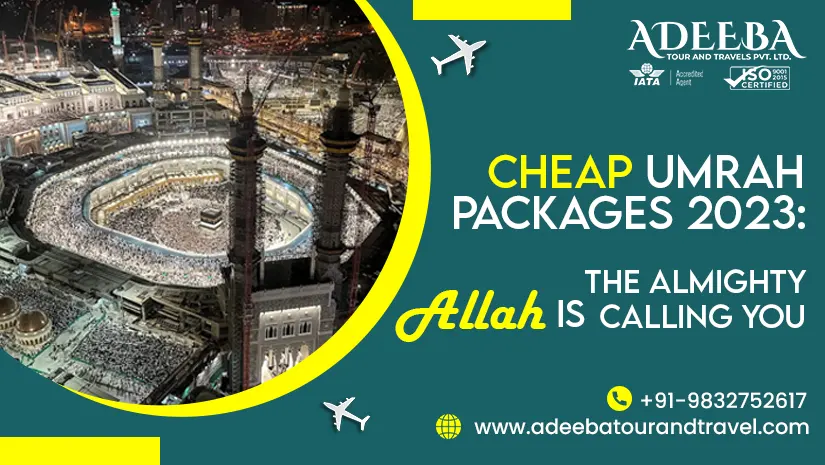 Cheap Umrah Packages 2023: The Almighty Allah is Calling You
July 6, 2023
The Essence of Umrah
Umrah, also known as the lesser pilgrimage, is a sacred journey to the holy cities of Makkah and Madinah in Saudi Arabia. While it is not obligatory like the Hajj pilgrimage, Umrah holds immense spiritual rewards and blessings for those who undertake it. It is a deeply personal and soul-stirring experience that allows Muslims to seek forgiveness, repentance, and spiritual elevation.
"The performers of Hajj and Umrah are deputations of Allah. If they call Him, He answers them; and if they seek His forgiveness, He forgives them." (Hadith - Sunan Ibn Majah)
"This emphasizes the significance of Hajj and Umrah as transformative journeys of devotion and spiritual growth."
Affordable Umrah Packages are here
At Adeeba Tour and Travels, we understand the importance of making the Umrah pilgrimage accessible to all believers. We are proud to offer a wide range of Cheap Umrah Packages 2023 that are designed to cater to different budgets and preferences. Our packages encompass various aspects of the journey, including accommodation, transportation, visa processing, and guidance throughout the pilgrimage. With our competitive prices, we aim to make your spiritual journey both affordable and memorable.
Uncompromised Quality and Service
While our affordable Umrah packages 2023 are priced competitively, we do not compromise on the quality of services we provide. Adeeba Tour and Travels is committed to ensuring a hassle-free and fulfilling Umrah experience for every traveler. We partner with reputable hotels in close proximity to the holy sites, ensuring comfort and convenience during your stay. Our dedicated team of professionals is available round the clock to assist you with any queries or requirements you may have, ensuring that your journey is comfortable and spiritually rewarding.
Expert Guidance and Support
Undertaking a spiritual journey can be overwhelming, especially if it is your first time performing Umrah. At Adeeba Tour and Travels, we understand the significance of guidance and support throughout the pilgrimage. Our knowledgeable guides accompany you every step of the way, providing valuable insights and assisting you in performing the rituals with devotion and reverence. They are well-versed in the traditions and rituals of Umrah, ensuring that you have a meaningful and enlightening experience.
Flexible Itineraries
We recognize that each individual's circumstances and preferences may vary. To accommodate diverse needs, our executive Umrah Packages offer flexible itineraries that can be designed to suit your requirements. Whether you prefer a shorter or longer duration of stay, or wish to visit additional destinations, we can customize your itinerary accordingly. Our goal is to ensure that you have the freedom to create a personalized and fulfilling Umrah experience that aligns with your spiritual aspirations.
Book with Confidence
When you choose Adeeba Tour and Travels for your Umrah journey, you can book the cheapest Umrah package from Kolkata with confidence. We are an authorized and licensed travel agency, adhering to the highest standards of professionalism and integrity. Your safety and satisfaction are our top priorities, and we strive to exceed your expectations at every step. Rest assured that you are in capable hands as you conduct this sacred pilgrimage.
Answer the Call of the Almighty
The call to perform Umrah is a divine invitation to draw closer to the Almighty Allah (SWT), seek forgiveness, and experience spiritual transformation. Don't let financial constraints hold you back from performing this extraordinary journey. Take advantage of our best Umrah deals for 2023 and respond to the call of the Almighty. Let Adeeba Tour and Travels be your trusted companion in fulfilling your spiritual aspirations and creating lifelong memories.
Conclusion
Adeeba Tour and Travels invites you to perform a deeply spiritual and affordable Umrah journey in 2023. Our Umrah Packages are brilliantly designed to provide you with a smooth and memorable experience, ensuring that you can answer the call of the Almighty Allah with ease. Let us guide you on this sacred pilgrimage, where you will find solace, forgiveness, and spiritual elevation. Book your Umrah from Kolkata with Adeeba Tour and Travels and start a transformative journey of faith and devotion.
What You Need to Do?
Answer the Call of the Almighty! Don't miss out on the opportunity to start a transformative spiritual journey with Adeeba Tour and Travels Cheap Umrah Packages from Kolkata 2023. Book now and experience the blessings of performing Umrah at affordable prices that starts at RS 1,05,000/- per pilgrim.
Our packages include comfortable accommodations, reliable transportation, expert guidance, and exceptional service throughout your pilgrimage. Let us handle the logistics while you focus on connecting with your faith. Answer the divine invitation and fulfill your spiritual aspirations.
Visit our website at https://adeebatourandtravel.com/ or call us at +91-9832752617 to book your Umrah Package today.