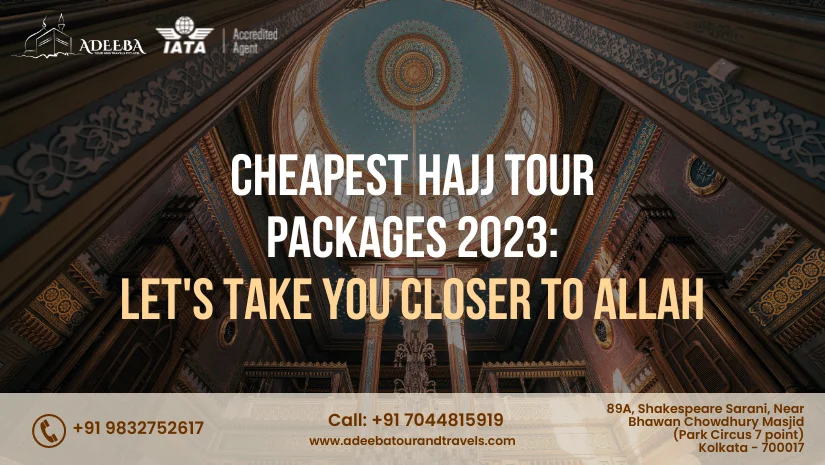 Cheapest Hajj Tour Packages 2023: Let's take you closer to Allah
April 10, 2023
Why Choose Adeeba Tour and Travels in 2023?
Conduct the fifth Pillar of Islam for only Rs. 6,50,000/- and get closer to the Almighty Allah (SWT).


By choosing us, you can also get-


Cheap Hajj packages with flights
Return air tickets with Saudi Airline
Valid Hajj Visa with insurance
All meals (Breakfast, Lunch, and Dinner) for each pilgrim
5 liters of Zam Zam water (if available)
A.C. transportation
Complimentary Hajj kit
Choose to share room in shifting with 5/6 person
Laundry services for each pilgrim


Know more of our Value-Added Services!
Expert Guidance: Hajj is a complex pilgrimage that involves numerous rituals and customs. With our Hajj tour package, we will provide you with an experienced guide who will give you step-by-step instructions and guidance throughout the journey.


Comfort and Convenience: Our Hajj tour packages offer convenient accommodation options, which are typically located close to the Holy sites. Transportation arrangements are also taken care of, ensuring that you have a comfortable and stress-free journey.


Time-Saving: Hajj can be physically and mentally demanding and it requires meticulous planning. With our package, you can save time on logistics and focus on the spiritual aspects of the pilgrimage without worrying about the details.


Group Camaraderie: With our perfectly customized Hajj and Umrah travel services you can travel in group at the most affordable rates and make long-lasting friendships during the journey.


Safety and Security: Hajj packages offered by Adeeba Tour and Travels ensure your safety and security. We provide professional support and assistance to make your journey safe and sound.
Conclusion
By booking our Hajj packages, you can focus on the spiritual aspects of Hajj and make your pilgrimage a truly meaningful and unforgettable experience in the name of the merciful Allah (SWT). To know more, reach out to us here at +91- 7044815919.