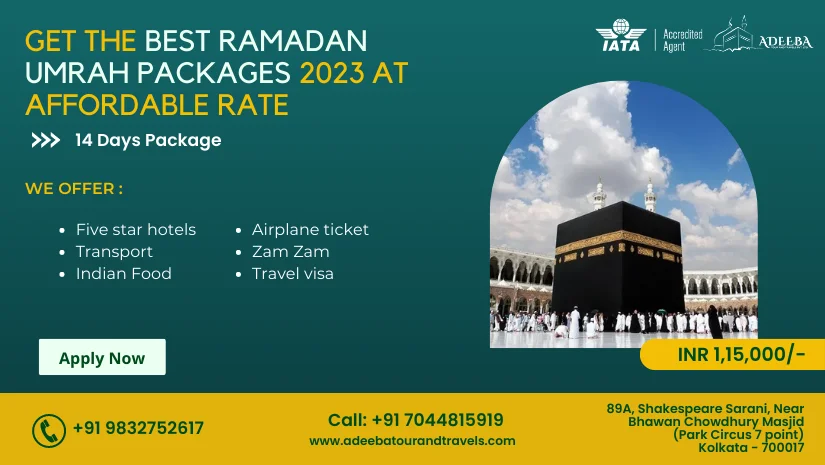 Get the Best Ramadan Umrah Packages 2023 at Affordable Rate
April 3, 2023
Know More about the Package
If you are planning to perform Umrah during Ramadan 2023, it is advisable to book your trip early to ensure you get the best deals and packages available. Many travel companies offer Ramadan Umrah packages that are tailored to suit the needs and budgets of different travelers. These packages usually include flights, hotel accommodation, and transportation services to and from the holy cities of Makkah and Madinah.
One of the key advantages of choosing
Ramadan Umrah packages 2023
is that it allows you to focus entirely on your spiritual journey without worrying about logistical arrangements. You can leave the planning, organization, and execution of your trip to the travel company and concentrate on your worship and spiritual practices.
Factors You Need to Consider before Choosing a Ramadan Package
When choosing a
Full Ramadan Umrah package
, it is essential to consider factors such as the reputation of the travel company, the quality of the hotels and transport services provided, and the proximity of the hotels to the Masjid-Al Haram. It is also important to check if the package includes access to a private guide who can assist you in performing Umrah rituals and navigating the crowded holy sites during Ramadan.
Many travel companies offer different types of Umrah packages, ranging from budget-friendly options to luxury packages with premium services and amenities. You can choose a package that best suits your needs and budget. You can get our best Umrah packages now which starts from RS 1, 15,000/- Per Person.
Conducting Umrah during Ramadan is a unique opportunity for Muslims to undertake a spiritual journey of a lifetime. We offer different types of customized Umrah packages perfectly suited to your requirements and preferences. To get the best Ramadan Umrah package at highly-affordable rates contact now at +919903107214.