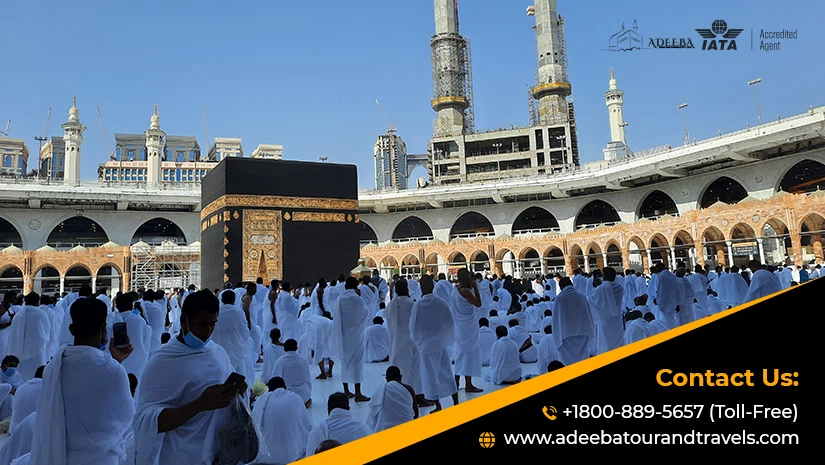 Gain Blessings of Allah after Umrah with These 5 Actions
December 16, 2022
Umrah Tour has almost been the dream of every Muslim who wishes to be closer to Allah (SWT). The best Umrah travel agency is here to give you the best Umrah deals for the sacred pilgrimage of your life and deepen your relation with Allah (SWT)
Umrah Tour- Brings you closer to Allah (SWT)
If you think of establishing the pure relation with Allah (SWT) then you need to be sure of the fact that Umrah trip can not only make your life worth cherishing but also bring you closer to the Almighty, which might has been your dream till date. In order to book the best Umrah package, you do need the complete assistance of the best Umrah travel agency, which assures to make your pilgrimage even more meaningful.
For those who had already booked their luxury Umrah package with us, Adeeba Tour and Travels, being the best Umrah Tour operator in Kolkata- they know that their dream of Umrah can be successful even within their own budget. For others, who don't even know how and when to perform Umrah, this blog is indeed for them.
Top things to do after you come back from Umrah
If you do intend to perform the best pilgrimage of your life, then you need to be sure of the fact that there are certain things that you need to conduct once you come back to your hometown after this best journey of your life, which are as follows:
Be sure to stay in contact with Allah
During the trip, pilgrims are expected to follow a variety of rules regulating their personal and social behavior. You may keep and deepen your relationship with Allah (SWT) by incorporating them into your life after Umrah. Keep a firm grip on your trust in Allah (SWT), be patient and composed at all times, avoid speaking negatively about others, inflicting harm on them, cursing and other such behaviors.
Every action you take, remember Allah
You will frequently think back on your adventures in Mecca once your trip is over. The number of references to Allah (SWT) declines throughout time. Thoughts of gratitude and remembrance of the All-Powerful, however, should not be fleeting moments. Make it a point to thank God for your blessings and to keep Him in mind in whatever you do.
Even if you have a bad day, when you see that someone needs your help, please do make sure to reach out to them to be able to give them the needed time and attention and also the care that they do truly deserve. It's not about the cheapest Umrah packages from Kolkata that you can have for the sacred journey of your life, but it's also about the commitment that you give to Allah (SWT) to be always helpful and considerate towards everyone in your life to be closer to Allah (SWT).
Ibadat- make this a daily habit of your life!

Who said that you need to perform Ibadat only when you conduct the best Umrah Tour of your life? Even after returning back, you do need to maintain some of the core habits to be able to feel or deepen your relation with the Almighty Allah (SWT). Whenever you do have time amid the busy schedule of your life, please do make sure to remember Allah (SWT) and also perform Ibadat as much as you can. Surrender everything into the hands of the Supreme Creator and let the Almighty decide what shall happen in your life.
You don't have to conduct Umrah from Kolkata to be a true Muslim, but at the same time you also need to adopt some of the good habits to establish your relation with the Almighty Allah (SWT) in the best way possible. Read good books, always think good of others and also never hurt anyone either through words or through actions, because Allah (SWT) watches us all, every time!
Conclusion
Since we have come to the end of the blog, we hope that you have now been able to understand about the ways in which you can be extremely closer to Allah (SWT) even after Umrah. In order to conduct Umrah from Kolkata, make sure to reach out to us to book the cheap Umrah packages including flights to seek mercy and also to be able to wash off all your past sins.
Also, make sure to visit our blog space now to read more interesting blogs!