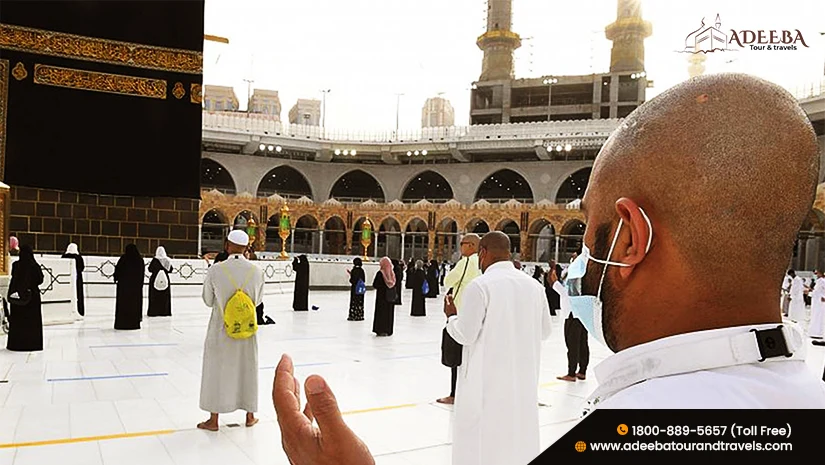 Say These 5 Things to a Pilgrim after Umrah Tour
December 20, 2022
Umrah, is indeed the life-changing journey, which brings us closer to Allah (SWT) and also drives us to the path of righteousness. Pilgrims, who get the chance to conduct Umrah Tour, is indeed lucky and also fortunate to be closer to the Almighty.
Basics about Umrah Tour
Umrah is a Muslim pilgrimage that is essentially an act of worship directed at Allah (SWT). It is founded on the Sunnah and teachings of the Holy Prophet (PBUH). The pilgrimage, which can be performed at any time of the year, is a trip to the House of Allah (SWT). Compared to the "larger pilgrimage" of the Hajj, it is referred to as a "small pilgrimage". This small journey can indeed make your life more beautiful and also help you to gain the blessings and the mercy of Allah (SWT), which is mandatory in the present day.
So, if you wish to know what to tell someone who has already conducted the Umrah trip and returned back then you do need to read the blog till the very end to get all insights about the same.
How essential is Umrah for a Muslim?
Although it is one of the most obligatory pilgrimages unlike Hajj, it all depends on the urge of the Muslim to be closer to Allah (SWT). Umrah Trip is one of the sacred pilgrimages of Islam that helps a Muslim to be pure by washing off all their past sins of their life that they might have done either with intention or without intention. It depends on the intention of the pilgrim as Islam never forces anyone to do anything. Hence, if you need to perform the best journey of your life, then you need to reach out to the best Umrah travel agency of Kolkata that assures to provide you with the best Umrah package. Reach out to Adeeba Tour and Travels Private Limited for deepening your relation with the Almighty.
Say these 5 things to a Pilgrim after Umrah
Have you met someone who seems to be very happy after the conduct of the best Umrah Tour? Well, you do need to be very proud of the pilgrim who had been able to do so much in the name of the Almighty Allah (SWT). Check out these five things that you have to tell someone who has recently come back after conducting Umrah from Kolkata:
"Greet the pilgrim by saying "Umrah Mubarak"
When a pilgrim comes back from Umrah journey, it's your sole duty to reach out to the pilgrim and wish him "Umrah Mubarak" to congratulate him for all the efforts that he had undertaken for seeking the blessings of Allah (SWT). This will also make him proud and also give him the strength to do everything in the name of Allah (SWT). Every pilgrim deserves to be congratulated and also be happy for all the things he had undergone during the Umrah trip from Kolkata.
"Ask him to seek forgiveness on your behalf"
This is one of the best and the vital things that you need to do once you do find someone coming back from the Umrah Tour. You do need to understand that the pilgrim is already been blessed and also has been granted mercy and forgiveness for all the past sins that he had done. So, since he is already pure, it is your golden chance to ask him politely to seek mercy from Allah (SWT) the moment he steps into this house. This will allow him to get the chance to also seek forgiveness from someone who had already been forgiven by Allah (SWT). Also, if you wish to directly visit the Holy Kaaba, then reach out to us to get the cheapest Umrah packages from Kolkata to conduct the best journey of your life within your budget.
"May Allah (SWT) accept your Umrah"
Every pilgrim does conduct the Umrah journey with utmost sincerity and it is your duty to say that his hard work shall be accepted by the Almighty Allah (SWT). This will not only make him satisfied but at the same time it shall also make you feel that his Umrah has finally been granted by the Almighty Allah (SWT). This saying is indeed a blessing that you can offer to someone who had been back from the sacred journey of his life.
"Inshallah! May you get to do another Umrah soon"
When you say this, you indeed motivate the pilgrim to be more sincere in being devoted to the Almighty Allah (SWT). Indeed this is also true that Umrah can be done multiple times in life but it all depends on the urge or the intention of the pilgrim to be able to accomplish his dreams in being closer to Allah (SWT). Despite this, you need to bless a returning pilgrim for being healthy enough to conduct more Umrah journey in his life.
"Hope Allah accepts every Dua of yours"
One has to understand that it is not about the cheap online Umrah packages that you have for the best journey of your life but it's about the million Duas that are being offered to Allah (SWT). Hence it can be said that when you do witness a pilgrim coming back from Umrah, reassure him of the fact that all his Dua's shall be granted and also answered by the gracious Allah (SWT).
Conclusion
Since we have come to the end of the blog, we hope that you have now been able to understand the things that you need to say to a pilgrim who returns back from the best Umrah Tour of his life. Again, if you have not been able to travel to Mecca, then this is the best time for you. Reach out to the best Umrah Tour operators of Kolkata now to get the complete Umrah packages including flights. Hurry up and book the cheap Mecca travel packages today!
Also, if you do wish to read more blogs do visit our blog space.