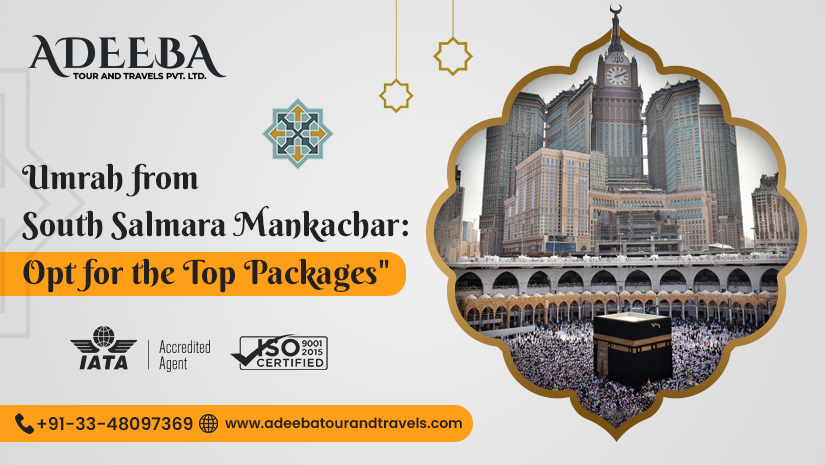 Umrah from South Salmara Mankachar: Opt for the Top Packages
June 21, 2023
Umrah: One of the best Journeys of your life
Let's find out the significance of Umrah, the advantages of choosing Adeeba Tour and Travels, and the various packages they offer. With the conduct of Umrah, you can not only get the blessings of the Almighty Allah (SWT) but also make yourself a better Muslim with the ritualistic practices that you shall conduct here, in the Holy Land of Allah (SWT).
The Significance of Umrah
Umrah is a voluntary pilgrimage that holds great significance in the hearts of Muslims. While it is not obligatory like Hajj, Umrah offers numerous spiritual rewards and blessings. It involves visiting the Holy Kaaba in Makkah, performing Tawaf (circumambulation) around it, and engaging in Sa'i (running) between the hills of Safa and Marwah. Muslims consider Umrah an opportunity for purification, seeking forgiveness, and drawing closer to Allah (SWT). The journey provides a sense of spiritual rejuvenation, tranquility, and a chance to strengthen one's faith.
Why choose Adeeba Tours and Travels?
Amid the presence of so many Umrah Tour companies, it is very crucial to know that there is a certain reason to choose the best Umrah Tour operators and also get the best Umrah services in order to make the journey very special in the name of the Almighty Allah (SWT). Let us bring to you the following reasons why you do need to choose us and start your best journey with us:
Extensive Experience and Expertise: Adeeba Tour and Travels boasts a rich history of providing exceptional travel services to pilgrims. With years of experience organizing Umrah from South Salmara Mankachar, we possess an in-depth understanding of the intricate requirements and preferences of pilgrims from Assam. Our expertise ensures a seamless and hassle-free journey, allowing pilgrims to focus solely on their spiritual endeavors.


Comprehensive Packages: We offer a range of comprehensively customized Umrah package from Assam, catering to different budgets and preferences. Adeeba Tour and Travels provides flexibility in terms of accommodation, transportation, and duration of stay, ensuring that each pilgrim can find a package that suits their needs. From economy options to luxurious stays, we have something for everyone, ensuring a comfortable and memorable experience.


Excellent Accommodation and Transport: Understanding the importance of comfort during the sacred journey, Adeeba Tour and Travels carefully selects accommodations that offer convenience and serenity. We collaborate with reputable hotels located in close proximity to the Holy Haram in Makkah and the Prophet's (PBUH) Mosque in Madinah. Additionally, we provide reliable transportation services, ensuring pilgrims have hassle-free travel between the holy sites.


Knowledgeable and Supportive Staff: We take pride in its team of dedicated professionals who are well-versed in the rituals and procedures of Umrah. Our knowledgeable staff provides guidance and assistance at every step of the journey; ensuring pilgrims have a fulfilling and meaningful experience. From visa processing to religious guidance, the support from Adeeba Tour and Travels is unparalleled, guaranteeing peace of mind for pilgrims.
Know more about Adeeba Tour and Travels
Adeeba Tour and Travels Private Limited is a trusted travel agency that specializes in providing assistance for Hajj and Umrah from Barpeta and other parts of Assam and West Bengal to pilgrims. Our aim is to enhance your journey towards salvation and make it hassle-free as you step foot in the holy city of Allah (SWT). We serve as intermediaries, dedicated to enriching your experience and helping you fulfill your significant Islamic duties of Hajj and Umrah.
With years of experience in the industry, Adeeba Tour and Travels Private Limited is proudly associated with one of the largest and most reliable Hajj and Umrah service providers in India. We offer a comprehensive range of services that make it easy for pilgrims to undertake Umrah from Dhubri and the rest of Assam. Our services cover visa processing, round-trip flights, transportation, Ziyarat tours, accommodation, and meals.
What We Want to Achieve?
Our mission revolves around assisting fellow Muslims in achieving the fundamental pillars of Islam—Hajj and Umrah. We strive to ensure absolute comfort for our clients, all at a pocket-friendly price that reflects the quality facilities provided during the tour.
Book our Adeeba Gold Package now
We offer the Gold Package, which includes flight tickets (round-trip), Umrah Visa with insurance, hotel stay, three Indian meals, Ziarat in Makkah and Madina for one day each, round trip transfers, a welcome kit, zam zam, and laundry.
All these services are available for RS 1,05,000/- pilgrim.
"Indeed, as-Safa and al-Marwah are among the symbols of Allah. So whoever makes Hajj to the House or performs 'umrah - there is no blame upon him for walking between them. And whoever volunteers good - then indeed, Allah is appreciative and Knowing" - Surah Al-Baqarah (2:158)
What You Need to Do?
Are you ready to start a transformative spiritual journey? Look no further than Adeeba Tour and Travels! Our top-quality packages that also include remote places in Assam such as Umrah from Hailakandi are tailor-made for pilgrims from South Salmara Mankachar and its surrounding regions. With years of experience and expertise, we ensure a seamless and fulfilling pilgrimage experience.
Choose from our comprehensive range of packages, designed to suit every budget and preference. Enjoy excellent accommodations, reliable transportation services, and the guidance of our knowledgeable staff throughout your sacred journey. We prioritize your comfort and convenience, allowing you to focus solely on your spiritual endeavors.
Don't miss this opportunity to fulfill your dreams of performing a memorable pilgrimage on a customized Umrah package from Assam. Opt for the top packages from Adeeba Tour and Travels by visiting at https://adeebatourandtravels.com/ today and contact at +91 33-48097369 to conduct a truly transformative experience. Call us now to book your unforgettable Umrah journey!
Conclusion
Undertaking the spiritual journey of Umrah from South Salmara Mankachar becomes more accessible and fulfilling with Adeeba Tour and Travels. Their extensive experience, comprehensive packages, excellent accommodation and transport services, knowledgeable staff, and customized options ensure an unforgettable pilgrimage. By opting for their top-quality packages, pilgrims can focus on their spiritual pursuits, while leaving the logistical aspects in the capable hands of the experts. Adeeba Tour and Travels is committed to providing a seamless and enriching Umrah from Darrang experience, guiding pilgrims on a transformative journey of faith and devotion.
To read more interesting blogs, make sure to visit our blog space.