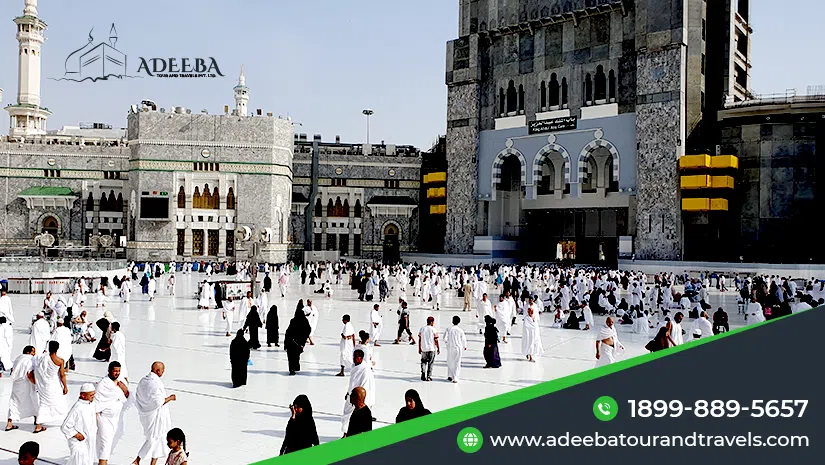 Umrah Tour in 2023 Everything You Need To Know
January 25, 2023
It's a blessing to arrive in the Holy Land and be able to conduct the sacred journey of Umrah which can bring us closer to the Almighty Allah (SWT). With the possession of the best Umrah deals, you too can be able to accomplish your dream.
Umrah- The best pilgrimage that connects you to Allah
One of the best pilgrimages that help you to be closer to Allah (SWT) is Umrah. When you do feel that you are not feeling happy, you do need to understand that you need to turn to Allah (SWT). With the conduct of Umrah, you do not only remove all your past sins but at the same time you can be able to stay connected with Islam and also be able to follow the path of truth that Allah (SWT) has wished for. Be ready to conduct Umrah trip from Kolkata with the cheap online Umrah packages 2023 to deepen your relation with the gracious Allah (SWT).
If you wish to know more about the new rules of Umrah Tour for 2023, then make sure to read the blog till the very end to get all the details.
What does the Prophet say about Umrah?
Prophet Muhammad (PBUH) said, "Perform Hajj and Umrah consecutively, for they cleanse poverty and sin like hollers take impurities from iron" [Sunan an-Nasa'i 2630 - The Book of Hajj] when questioned about the advantages of Umrah. The aforementioned Hadith makes it quite apparent that making Umrah is a means of eradicating poverty and implies to be a special way of being closer to Allah (SWT).
Interested to perform Umrah in 2023? Check out these facts now
So if you are reading this, you might be interested to know more about the new rules and the regulations that has been implemented in 2023. Check out these points now to be able to perform the best Umrah Tour of your life with the help of the best Umrah Tour operators of Kolkata:
Children don't need any special entry permit
The Kingdom of Saudi Arabia has reportedly now set a minimum age limit for Umrah pilgrims, according to the most recent declaration. In order to undertake Umrah, children 5 years of age and older can now receive official admission permission. So, what are you waiting for? Get the affordable Umrah packages 2023 now to be able to accomplish your dream of visiting the Holy Land, soon. To attend the Grand Mosque, children must be accompanied by their parents and must provide identification proving they have not been exposed to COVID-19 patients or become sick.
No more PCR test for pilgrims:
All international pilgrims are now permitted to visit Saudi Arabia for Umrah without needing to produce a negative result from a PCR or quick antigen test before leaving the Kingdom. Medical insurance to cover potential COVID-19-related treatment costs is a requirement for all visitors travelling on visit visas. With the best Umrah travel agency of Kolkata, you can be able to get the cheapest Umrah packages from Kolkata 2023 to conduct the best journey of your life and fulfil your dreams.
Display of the vaccination report to the Kingdom
Although the rise of the Covid has been diminished now, yet it is true that you do need to be safe and also be able to maintain the safety protocols in order to complete the journey without any hassle. Prior to travelling to Saudi Arabia, a person must register their immunization status on the muqeem site at least 72 hours in advance.
Conclusion
Since we have come to the end of the blog, we hope that you have now understood about the new rules and the regulations that you need to follow once you do arrive to the Holy city and seek mercy and blessings from the Lord. So, if you are interested to perform Umrah from Kolkata then reach out to the best Umrah Tour operators that are ready to assist you in the best way possible. Get the best Umrah package 2023 now before its too late.
Also, make sure to visit our blog space to read more interesting blogs.