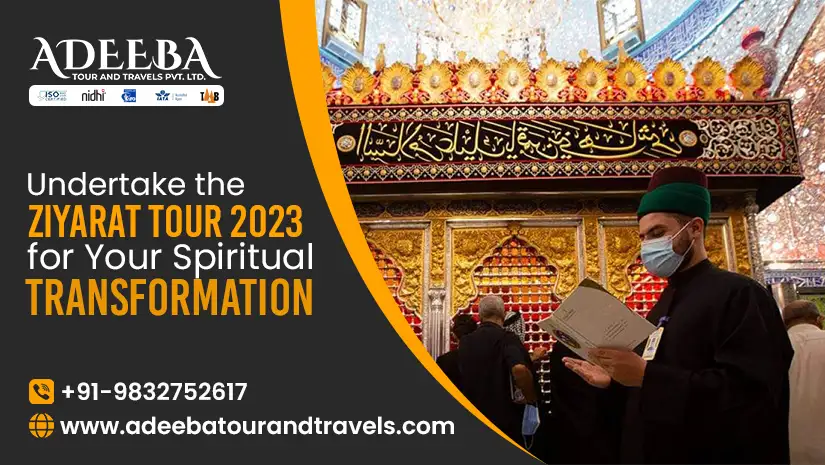 Undertake the Ziyarat Tour 2023 for Your Spiritual Transformation
July 21, 2023
Importance of Ziyarat : facts you need to know is here
Ziyarat involves traveling to specific locations associated with admired individuals, such as the tombs of prophets, Imams, scholars, saints, or other notable religious figures. These sites can be located in various parts of the world, depending on the historical and religious context. Some well-known ziyarat destinations include the Prophet Muhammad's (PBUH) tomb in Medina, Saudi Arabia, the shrines of Imam Ali and Imam Hussain in Iraq, and the mausoleums of various Sufi saints in different countries.
Muslims who undertake ziyarat tour often seek spiritual blessings, guidance, and inspiration by visiting these sacred sites. They may recite prayers, engage in acts of devotion, and seek intercession from the revered personalities buried there. Ziyarat is seen as an opportunity for spiritual rejuvenation, seeking proximity to God, and strengthening one's faith.
What You Need to Know?
It is important to note that ziyarat is not obligatory in Islam but rather a voluntary act of devotion. The significance and practices associated with ziyarat may vary among different Muslim communities and sects.
Places Where We Conduct Ziyarat Tours
Here are the places where Adeeba Tour and Travels takes pilgrims for Ziyarat tour 2023:
Explore the rich history of Iraq at the Iraq Museum.
Honor the bravery of Iraq's soldiers at the Al-Shaheed Monument.
Experience amusement and joy at Zawraa Park.
Discover the heritage of the grandsons of the Holy Prophet Muhammad (PBUH) at the Al-Kadhemia Holy Shrine.
Enjoy entertainment and leisure at the Baghdad Mall.
Visit the ancient Haidewr Hane Mosque, the oldest mosque in Baghdad.
Witness serenity and tranquility at Tahrir Square, under the open sky.
About Adeeba Tour and Travels
We are one of the most reputed tour and travel company in Kolkata that offers all-inclusive ziyarat packages at the cheapest available rates. The services offered by Adeeba Tour and Travels makes the journey hassle-free and comfortable for the pilgrims and ensure satisfaction that they are looking for. We have years of experience in providing top-quality ziyarat package booking services at affordable prices to our customers across India.
What We Offer You?
The best ziyarat packages offered by Adeeba Tour and Travels include:
5 nights in Baghdad, Iraq
2 nights in Karbala, Iraq
2 nights in Najaf, Iraq
3 nights in Qum, Iran (hotel stay)
2 nights in Nishapur, Iran (hotel stay)
1 night half-sleeper luxury coach journey from Iraq to Iran
1 night sleeper class train journey from Mashad to Tehran Airport
Visits to Kufa, Najaf, and Karbala
Iraq and Iran Visa arrangements
Ziyarat in Baghdad
Ziyarat in Madean
2 handbags provided
Buffet meals included
Why Choose Adeeba Tour and Travels?
There are various reasons for you to choose us over the others. Some of them are mentioned below:
Hassle-Free Visa Arrangements
To facilitate your spiritual journey, Adeeba Tour and Travels takes care of the complex visa arrangements for both Iraq and Iran. Our expert team ensures a smooth and hassle-free process, allowing you to focus solely on the spiritual transformation that awaits you.
Travel in Comfort and Style
When starting a Ziyarat tour with Adeeba Tour and Travels, comfort and convenience are our top priorities. With two handbags provided, you can travel easily and hassle-free, concentrating on your spiritual experience without any travel-related concerns.
Conclusion
In 2023, grab a unique opportunity to transform your life spiritually through the Ziyarat package offered by Adeeba Tour and Travels. Allow yourself to be transported to sacred destinations, where history and spirituality converge, and where you can seek peace, blessings, and personal growth. Book your Ziyarat tour 2023 now with Adeeba Tour and Travels, and get ready for an unforgettable pilgrimage of the soul. Experience the divine presence, reflect on life's purpose, and return rejuvenated with a deeper connection to your faith.
How to Book Packages from Us?
Undertake a memorable journey of spiritual awakening in 2023 with Adeeba Tour and Travels. Explore sacred sites in Iraq and Iran, where history and faith converge. Pay homage to admired personalities, seek blessings, and yourself in divine peace of mind.
With hassle-free visa arrangements, luxurious travel options, and expert guidance, our tour promises a transformative experience. Maximize this opportunity to reconnect with your inner spirituality.
Book now with Adeeba Tour and Travels and be part of an unforgettable pilgrimage, awakening your soul and enriching your faith. To book ziyarat, Hajj, and Umrah trip from India at cheap prices visit us at https://adeebatourandtravels.com/ or contact us at +91-9832752617