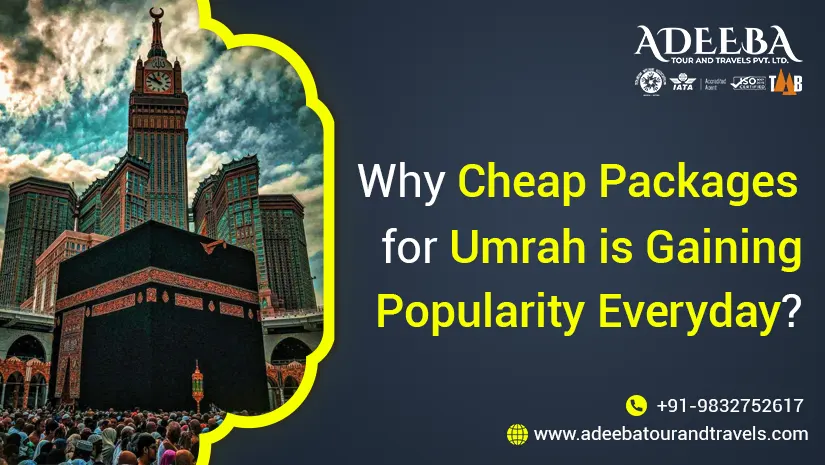 Why Cheap Packages for Umrah are Gaining Popularity Every day?
July 14, 2023
Why You Should Choose Cheap Umrah Packages?
Let's discover the reasons behind the increasing popularity of affordable Umrah packages and how Adeeba Tour and Travels is playing a pivotal role in fulfilling this dream.
Cost-Effectiveness
The primary factor driving the popularity of cheap packages for Umah is the cost-effectiveness they offer. Traditional travel arrangements for Umrah can be expensive due to inflated accommodation rates, airfare, and transportation costs. However, with affordable packages, individuals and families can now start this spiritual journey without straining their budgets. Adeeba Tour and Travels understands the financial constraints many face and has designed packages that provide exceptional value for money, ensuring that the pilgrimage remains affordable for everyone.
Comprehensive Services
The best Umrah packages 2023 offered by Adeeba Tour and Travels are not only cost-effective but also encompass a range of comprehensive services. These packages include visa processing, flights, accommodation, transportation, and guidance throughout the pilgrimage. By providing all these services in one package, we eliminate the need for travelers to make separate arrangements, saving them time, effort, and money. This convenience factor has greatly contributed to the popularity of these packages, as pilgrims can focus on their spiritual journey instead of logistics.
Flexibility and Customization
Another reason for the increasing popularity of top tour packages for Umrah in Kolkata is the flexibility and customization they offer. Adeeba Tour and Travels understands that each individual has unique requirements and preferences. To cater to these diverse needs, we provide a range of packages with different durations, accommodation options, and additional services. This allows travelers to choose a package that aligns with their budget and desires, ensuring a personalized and fulfilling experience. The flexibility in package selection has made Umrah accessible to individuals and families who previously found it financially challenging.
Reliable and Trustworthy Services
Adeeba Tour and Travels has established itself as a trusted and reliable travel agency, further contributing to the popularity of our packages. With years of experience in the industry and a strong reputation, we ensure that pilgrims receive top-quality services throughout their journey. From efficient visa processing to comfortable accommodations, we prioritize customer satisfaction and provide a hassle-free and luxurious travel experience. This reliability and trustworthiness have made us a preferred choice among individuals seeking to book your Umrah packages 2023 online.
Enhanced Accessibility
Cheap packages for Umrah have played a significant role in enhancing the accessibility of this spiritual journey. Previously, only a privileged few could afford the expenses associated with Umrah. However, with the availability of budget-friendly packages, people from diverse financial backgrounds can now perform this spiritual journey. This increased accessibility has led to a broader representation of pilgrims, fostering a sense of inclusivity and unity among the global Muslim community.
"So pray to your Lord and sacrifice [to Him alone]." 2-Surah Al-Baqarah98
"This signifies the closeness of a believer to his Allah(SWT) and what he needs to obey to stay close forever."
Why Choose Adeeba Tour and Travels?
Adeeba Tour And Travels Private Limited, a renowned travel agency, specializes in providing exceptional assistance for Hajj and Umrah trips. Our aim is to make your journey to the holy cities an unforgettable and hassle-free experience, as you start a sacred pilgrimage. Consider us as your trusted intermediaries, dedicated to enriching your spiritual journey and helping you fulfill your Islamic obligations of Hajj and Umrah. With years of experience in the field, Adeeba Tour And Travels Private Limited is associated with one of India's largest and most reliable Hajj and Umrah service providers. We offer a comprehensive range of services, including our esteemed gold umrah package, which covers visa processing, round-trip flights, transportation, Ziyarat tours, comfortable accommodations, and delicious meals.
How Can You Book Your Umrah Package?
Are you ready to perform a spiritual journey this year? Experience the rising popularity of affordable Umrah packages with Adeeba Tour and Travels. Book best Umrah packages with hotels and flight in your budget to undertake a memorable pilgrimage. Contact us at +91-9832752617 now or visit at https://adeebatourandtravels.com/ to start your transformative pilgrimage with ease.
Conclusion
The increasing popularity of cheap Umrah packages is making the dream of performing Umrah a reality for many individuals and families. Adeeba Tour and Travels, with its cost-effective packages, comprehensive services, flexibility, and trustworthy reputation, has emerged as a key player in facilitating affordable Umrah journeys.
By providing accessible and well-organized packages, we are ensuring that the spiritual aspirations of Muslims are not limited by financial constraints. With Adeeba Tour and Travels, pilgrims can apply for Umrah online visa booking 2023 without compromising their budgets. It is no wonder that cheap Umrah packages are gaining popularity every day, empowering more people to undertake this sacred pilgrimage.