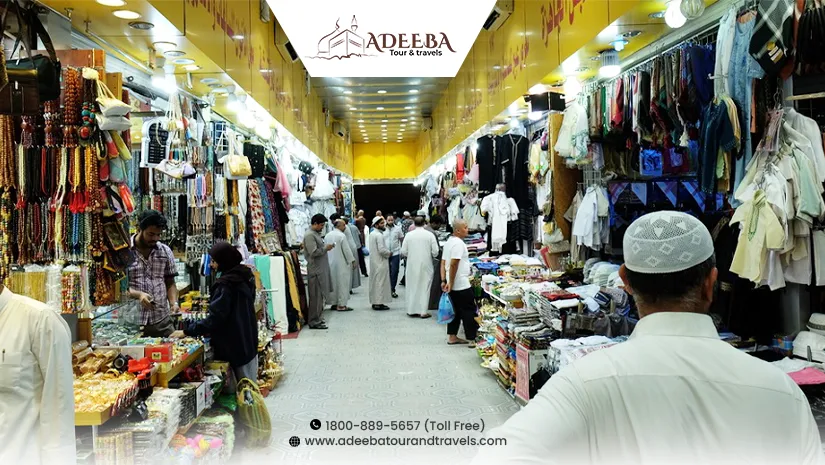 Finished Your Umrah? Visit These Affordable Markets
November 7, 2022
With the conduct of Umrah and Hajj, it is also very vital to know more of the places that can provide us with added joy. Once you do finish the Umrah Tour from Kolkata, you ought to be wondering of the ways to spend time in that wonderful city that has so much to offer you. Mecca and Medina are the key shopping centers for anyone who loves to shop and hop!
Umrah Tour-bringing you closer to Allah (SWT)
The phrase "small pilgrimage" also applies to Umrah which is a Sunnah deed. All year long, Muslims are allowed to make small pilgrimages. As opposed to the Hajj, this pilgrimage of Umrah trip is optional, although Muslims nonetheless benefit much from it. To become closer to Allah (SWT), millions of Muslims assemble at the Holy Kabba. Umrah is a rewarding act that gives Muslims a sense of significance in both this world and the next. In Islam, Umrah is the practice of removing any signs of arrogance, fortune and social status in order to demonstrate one's love and respect for fellow humans and being closer to Allah (SWT) with utmost sincerity and devotion.
What to do right after Umrah in Mecca?
After completing the Umrah from Kolkata, the pilgrims can shop in Mecca for some wonderful and distinct things for their prayers. Additionally, if one makes the Umrah during Ramadan, the shopping is just unmatched. The commercial centers are exquisitely decked during this time to honors the holy month.
Make sure to visit these affordable markets after Umrah
Mecca is the ideal location to acquire prayer rugs, rosaries, Qurans and bottles of Zamzam water since it serves as the spiritual center of the Islamic world. Other keepsakes include toothpicks, perfume and oud. Around the university, some stores are opening around-the-clock. From early in the morning until far after midnight, large markets including Bin Dawood, Banda, Nuri and Carrefour are open for tourists who do come here once in their lifetime with the help of the best Umrah packages.
So, make sure to check out these interesting points which can help you in your next journey to Mecca with your closed ones:
Have you been to Bin Dawood Markets earlier? The network of shops is a Saudi business. It now has 21 branches spread over three significant cities in the Kingdom of Saudi Arabia, the most significant of which are in both Mecca and Medina, the locations of the Two Holy Mosques. The reason Bin Dawood Markets in Mecca are so well-known may be due to the fact that it is concentrated in certain locations and pilgrims visit it because of the good reputation it has.
Due to its prominent and widespread recognition as one of Mecca's most recognized tourism symbols, the Mecca Clock is regarded by pilgrims as a must-see tourist destination and a popular gathering spot for their families and friends. Therefore, the pilgrims are eager to take advantage of the chance and go there in order to see the famous building and landmarks. View the marketplaces and stores situated within the clock tower: The greatest brands of apparel, jewelry and restaurants can all be found in the numerous marketplaces and stores that are housed inside the towers. Make sure to get the best Umrah packages that shall help you to conduct the journey with more ease and also gain blessings from Allah (SWT).
In Max Mall, which is well-known for its inexpensive costs, you can buy nearly everything, including clothing for children as well as shoes, jewelry, hats and pillows. It is one of the most economical shopping malls since prices range from 10 Saudi Riyals to 65 Saudi Riyals here. However, Haram is a little bit away.
Although it is located a little distance from the Haram, transfers may be used to get there. This retail area is also well recognized for its incredibly low prices. As the name implies, the majority of items cost between 10 and 12 Saudi Riyals, which is a very reasonable price.
Near the Haram, the Jaafaria Saoq market is well known for its wide selection of perfumes, both natural and synthetic. In addition to this, there are many hundreds of stores that offer Jaye Namaz, Tasbeeh, Rings, Jewelry and other Hajj and Umrah-related goods.
With the help of the best Umrah Tour packages, you can be able to perform the journey with more ease and also get the chance to explore some of the places that will surely amuse you. Get hold of the cheap umrah packages now to explore the beautiful places that are present here.

Conclusion
Since we have come to the end of the blog, we hope that you now have the key idea of the places that you do need to explore once you arrive in Mecca. So reach directly to the best Umrah tour operator, by availing the cheapest Umrah packages from Kolkata now, to make your journey more special for Allah (SWT).
Also, make sure to visit our blog space to read more interesting blogs!