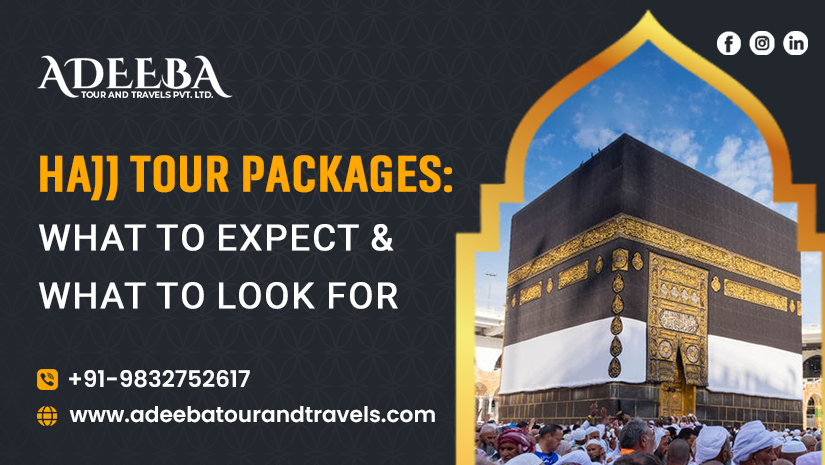 Hajj Tour Packages: What to Expect and What to Look for
August 5, 2023
Learn about Hajj Tour Packages
Let's explore what to expect from Hajj tour packages and what to look for when choosing one, with a special focus on the Adeeba Tour and Travels.
Hajj packages are all-inclusive travel packages specially designed for pilgrims planning to perform the Hajj pilgrimage. These packages are perfectly designed to fulfill the needs and preferences of various individuals, ensuring a hassle-free and spiritually enhanced experience. A reputable tour operator like Adeeba Tour and Travels will handle all aspects of your journey, including accommodation, transportation, guidance, and other essential services, leaving you free to fulfill your religious obligations comfortably.
What You Can Expect from Adeeba Tour and Travels?
Expert Guidance: Adeeba Tour and Travels have a team of experienced and knowledgeable guides who will accompany you throughout the journey. They will provide spiritual advice, and historical insights, and ensure you understand and perform each ritual correctly.

Accommodation: Rest assured, you will have comfortable and well-located accommodations in Mecca and Medina. We take care of your lodgings, allowing you to focus on your prayers and reflection.

Transportation: Getting around in an unfamiliar country can be difficult, but with a Hajj tour package you won't have to worry about transportation. Adeeba Tour and Travels will arrange for all necessary travel, so you can travel with peace of mind.

Pre-Hajj Seminars: We also prepare pilgrims for their sacred journey through our pre-Hajj seminars and workshops to familiarize participants with the rituals and essentials of Hajj.

Comprehensive Itinerary: Our specially designed itinerary ensures that you don't miss any important rituals. From Tawaf around the Kaaba to the symbolic Stoning of the Devil, every aspect is thoughtfully scheduled.

Supportive Staff: The staff at Adeeba Tour and Travels is known for their support and assistance. Whether it is assisting with paperwork or addressing any concerns, they are committed to ensuring your Hajj experience is smooth and satisfying.
What to Look for in Hajj and Umrah Tour Packages?


If you are keen to get the best services for your next pilgrimage, then be sure to check all the points till the very end.


Reputation and Experience: Choose a tour operator such as Adeeba Tour and Travels with a proven track record and extensive experience in offering Hajj packages and executive Umrah packages. Read reviews, seek recommendations, and evaluate their overall reputation in the industry.

Accreditation: Ensure that the tour operator is accredited by the Saudi Arabian Ministry of Hajj and Umrah. Accreditation ensures compliance with regulations and a certain level of service quality.

Group Size: Consider the group size when selecting a Hajj tour package. A smaller group might offer a more disciplined and focused experience, while a larger group could be more social and dynamic.

Inclusions and Exclusions: Carefully review what is included in the package, such as accommodation, meals, transportation, and guided tours. Also, get aware about any additional costs or personal expenses that are not covered.

Support Services: Look for tour operators who offer support services before, during, and after the pilgrimage. Pre-Hajj seminars, informational resources, and post-Hajj support can enhance your overall experience. Adeeba Tour and Travel have years of experience in delivering top-quality support services for Hajj, Umrah, and Ziyarat packages.

Flexibility: A reputable tour operator should be flexible enough to accommodate individual needs and preferences while ensuring devotion to the essential rituals of Hajj.
Conclusion
Undertaking the Hajj pilgrimage is a spiritual and life-changing experience for Muslims. To make this journey easy, comfortable, and luxurious consider choosing a Hajj tour package 2023. Adeeba Tour and Travels, with its exceptional services, expert guidance, and heartfelt commitment, stands out as an excellent choice. With our assistance, you can focus on the spiritual aspect of Hajj and create lasting memories that will stay with you forever.
How You Can Book the Cheapest Hajj Packages?
Experience the ultimate Hajj pilgrimage like never before with Adeeba Tour and Travels which offers exclusive
Hajj tour packages
. Discover expert guidance, luxurious accommodations, and seamless transportation that ensure a spiritually fulfilling experience. Our team of seasoned professionals will support you at every step, making sure you don't miss any significant rituals. As an accredited tour operator with a reputation, we prioritize your comfort and satisfaction. Don't miss this opportunity to fulfill your lifelong dream. Book your Hajj package and
Umrah from Cooch Behar
now by calling us at
+91-9832752617
or visiting us at https://adeebatourandtravels.com/ and join us for an unforgettable and spiritually transformative Hajj journey.