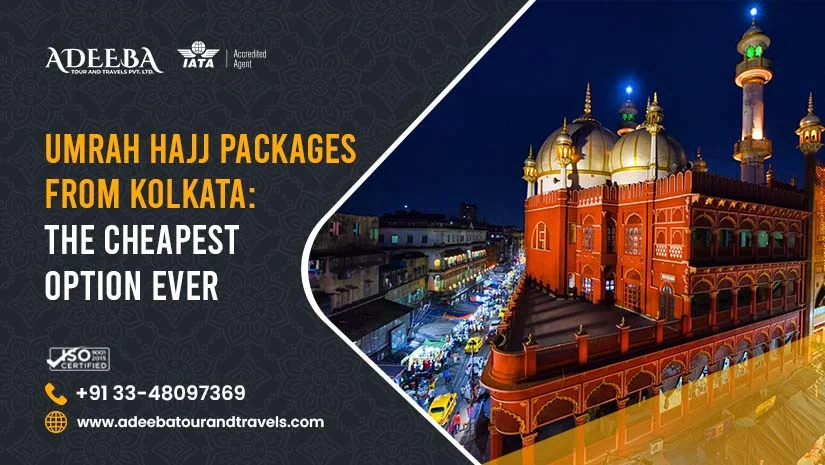 Umrah Hajj Packages from Kolkata: The Cheapest Option Ever
May 24, 2023
Advantages of Cheap Umrah and Hajj Packages
Here are some of the advantages of Umrah Hajj packages:
Cost-effective: Umrah Hajj packages from Kolkata

are designed to make the journey to Mecca and Medina more accessible and affordable for Muslims in Kolkata and the surrounding areas. These packages include everything from airfare, hotel accommodations, ground transportation, and meals, to visa processing, guidance, and assistance during the entire journey. With these packages, pilgrims can save money while being able to fulfill their sole dream of being closer to the Almighty Allah (SWT)




Hassle-free: One of the most significant benefits of cheap Umrah Hajj packages is that they provide a more convenient and hassle-free travel experience. Pilgrims don't have to worry about booking their flights, arranging for transportation, or finding suitable accommodations in a foreign country. These arrangements are taken care of by us, the best Umrah travel agency in Kolkata, allowing pilgrims to focus on their spiritual journey and obligations.




Guided tours: These packages also include guided tours of the holy sites in Mecca and Medina, such as the Kaaba, the Prophet's(PBUH) Mosque, and Mount Uhud. These tours are led by experienced and knowledgeable guides who provide historical and spiritual context to the sites, making the journey more meaningful and enriching for the pilgrims.




Local connections: Many travel agencies that offer cheap Umrah and Hajj packages have strong relationships with local hotels and transportation providers, allowing them to negotiate lower prices and pass on the savings to their customers. This means that pilgrims can benefit from the expertise and local knowledge of the travel agency and get the best deals on their travel arrangements.




Reliability: By booking an Umrah Hajj package from a reputable travel agency like Adeeba Tour and Travels, pilgrims can ensure that their travel arrangements are reliable and safe. They have experience organizing travel to the holy cities and are well-equipped to handle any unexpected situations that may arise during the journey.
Your Trusted Hajj and Umrah Partner is here
Adeeba Tour and Travels, the renowned travel agency in Kolkata offers the best Umrah Hajj package at the cheapest available price to make your pilgrimage memorable forever. They offer a wide range of services that will make your trip luxurious and comfortable without losing your life savings. The company delivers exclusive Hajj packages that start at RS 6,50,000/- and special Umrah packages that start at RS 1,05,000/- per pilgrim. To enjoy the benefits of these packages you need to visit https://adeebatourandtravels.com/.
Conclusion
Our Umrah Hajj packages are an excellent option for Muslims in Kolkata who want to fulfill their religious duties on these pilgrimages without losing their pocket. With careful planning and preparation, traveling to the holy cities can be a spiritual and enriching experience for Muslims in Kolkata and beyond. To get more discount offers and special deals on Hajj and Umrah packages, contact +91 33-48097369.
If you wish to read more interesting blogs, then make sure to visit our blog space.