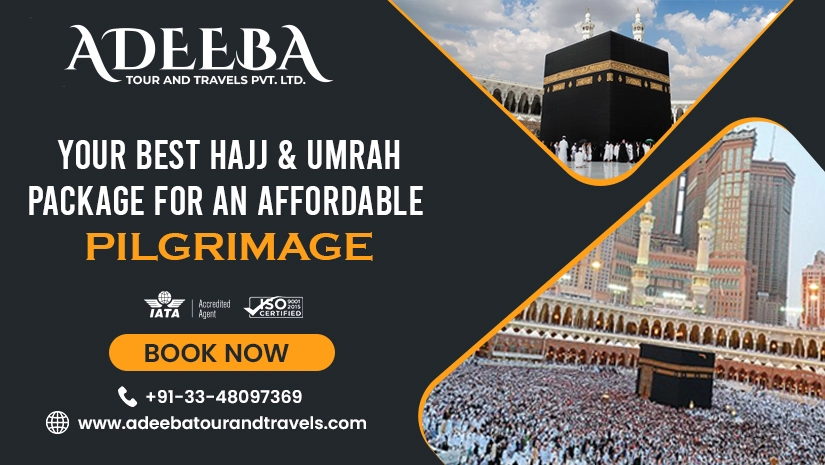 Your Best Hajj and Umrah Package for an Affordable Pilgrimage
June 17, 2023
What Do You need to Keep in Mind?
Let's see how Adeeba Tour and Travels can make your pilgrimage affordable without compromising on quality and comfort.
Understanding the Importance of Hajj and Umrah
Before going into the details of a Hajj and Umrah package that is being offered by Adeeba Tour and Travels, it is essential to understand the significance of these two holy pilgrimages in the lives of Muslims. Hajj, the annual pilgrimage to the holy city of Mecca, is one of the five pillars of Islam and is obligatory for all able-bodied Muslims who can afford it. Umrah, on the other hand, is a non-binding pilgrimage tour that can be conducted at any time of the year. Both journeys hold immense spiritual and cultural value, offering believers an opportunity for self-reflection, purification, and strengthening of their relationship with Allah (SWT).
The Promise of an Affordable Pilgrimage
At Adeeba Tour and Travels, we firmly believe that every Muslim should have the opportunity to fulfill their religious obligations without financial strain. Our team works tirelessly to design Hajj and Umrah tours that are not only affordable but also maintain the highest standards of quality and convenience. By carefully selecting accommodations, transportation, and services, we ensure that your pilgrimage is comfortable and worry-free while keeping the costs reasonable.
Best Umrah Packages 2023 to Suit Your Needs
Adeeba Tour and Travels understands that every pilgrim is unique, with different preferences and requirements. That's why we offer a range of customizable packages to cater to your specific needs. Whether you are traveling alone, with your family, or as part of a group, we have options that will suit your Hajj and Umrah Travel budget and preferences. Our packages include accommodation in well-located hotels near the holy sites, round-trip transportation, guidance from experienced tour guides, and assistance with visa processing and documentation.
Uncompromising Quality and Exceptional Services
While affordability is a significant aspect of our Umrah and Hajj 2023 packages, Adeeba Tour and Travels never compromises on quality or services. We have partnered with reputable hotels and transport providers to ensure that you have a comfortable and convenient stay during your pilgrimage. Our team of experienced professionals is dedicated to providing you with comprehensive assistance and guidance throughout your journey. From the moment you book your package until you return home, we are there to support you and address any concerns or queries you may have.
Why choose Adeeba Tours and Travels?
At Adeeba Tour and Travels Private Limited, we are dedicated to providing unparalleled assistance for Hajj and Umrah trips. Our aim is to enhance your journey to Allah's (SWT) holy city, making it special and hassle-free. Consider us your trusted intermediaries, here to ensure you have an enriching experience while fulfilling your greatest Islamic duties of Hajj and Umrah.
With years of experience in the industry, Adeeba Tour and Travels Private Limited is associated with one of India's largest and most reliable Hajj and Umrah service providers. We offer a comprehensive range of services, including the prestigious gold umrah package, which covers visa arrangements, round-trip flights, transportation, Ziyarat tours, accommodation, and meals.
Come closer to Allah (SWT) with our Umrah Services
Our mission is to assist fellow Muslims in achieving the five pillars of Islam through Hajj and Umrah, and we strive to provide absolute comfort at a pocket-friendly price that reflects the quality of facilities provided during your tour. The Hajj and Umrah package prices are among the cheapest in India.
Our Hajj packages start at RS 6,50,000/- and our Umrah tours start at RS1,05,000/- per pilgrim. You can choose your packages as per your requirements and preferences, which will make your journey hassle-free and comfortable.
Make your Umrah Journey memorable with Us
Experience the journey of a lifetime with Adeeba Tour and Travels. Our cheapest Hajj and Umrah package offers you the opportunity to fulfill your spiritual obligations without breaking the bank. Don't miss out on this chance to start a transformative pilgrimage with the guidance of our experienced team. Enjoy comfortable accommodations, convenient transportation, and comprehensive services tailored to your needs. Let us make your pilgrimage an unforgettable and hassle-free experience. ?
Take the first step towards your sacred journey today. Contact Adeeba Tour and Travels at +91 33-48097369 or visit our website https://adeebatourandtravels.com/ and book your best Umrah and Hajj tour package for an affordable and meaningful pilgrimage. Make your Hajj and Umrah journeys the most memorable experiences of your life that you will cherish forever.
Conclusion
Undertaking a Hajj or Umrah pilgrimage is a sacred endeavor that requires careful planning and organization. Adeeba Tour and Travels recognizes the importance of this spiritual journey and aims to make it affordable and accessible for all.
With the cheapest Hajj and Umrah packages in 2023 unwavering commitment to quality, and exceptional services, we strive to provide you with an unforgettable and fulfilling pilgrimage experience.
Choose Adeeba Tour and Travels for your Hajj and Umrah needs and embark on a journey of a lifetime without breaking the bank. Contact us today and let us assist you in realizing your dream of a transformative pilgrimage.
To know more, make sure to visit our blog space.